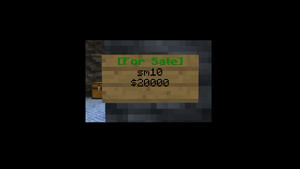 Player shops are available on every server. They can be found near spawn or accessed using /warp shops in-game. They range in price from 20K to 60K depending on the size and location of the shop plot.
How to Purchase
Edit
All shops can be purchased by left clicking on the sign marking the shop plot for sale. You must have enough money in you account to purchase the plot.
/as help (Shows useful commands in-game)
/as rent (Rents the shop plot your standing in) *
/as unrent (Un-rents the shop plot your standing in) *
/as buy (Buys the shop plot your standing in)
/as sell (Sells the shop plot you are standing in)
NOTE: If anything is left in the plot it will stay there for the next owner.
/as me (Shows what shop plots you own on that server)
/as info (Shows information about the plot you are standing in)
/as tp (Will teleport you to your shop plot)
/as settp (Use to set the tp into your shop plot)
/as addfriend (Add a friend to your region. This will enable them to build/destroy and open chests)
/as delfriend (Remove a friend from your region)
/as find (Will help you find an open shop plot for rent)
/as resell (Allows you to resell your player shop. Unlike /as sell this one will not give you the money for your plot until a player purchase's it)
/as stopresell (Takes your player shop off the market to be sold.
Ad blocker interference detected!
Wikia is a free-to-use site that makes money from advertising. We have a modified experience for viewers using ad blockers

Wikia is not accessible if you've made further modifications. Remove the custom ad blocker rule(s) and the page will load as expected.